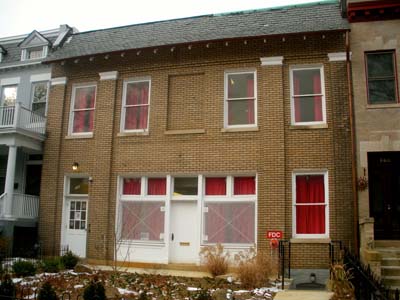 School Overview
Title I Status
No
A Title I school is a school that receives federal funds to support students from low-income backgrounds in learning and achieving at high levels.
Local Education Agency
A local education agency (LEA) is an organization that operates publicly funded schools. In DC, our LEAs include DC Public Schools (DCPS) and more than 60 charter organizations.
2019 Star Rating
Not Applicable
The School Transparency and Reporting (STAR) Framework is DC's school accountability system. Each school receives a rating of 1 to 5 stars, with 5 being the highest, based on its performance across multiple metrics. Not Applicable means the school did not meet the minimum population size to generate a score or was not in operation during the previous school year.
Message from the School
AELPCS implements a research-based instructional program that supports the development of young children's language, literacy, and behavioral skills as well as their understanding of the world around them. The school uses a comprehensive, integrated curriculum designed to engage young children in playful activities and to build on their natural eagerness to learn.
Parent Organization and Contact Information
Parent organizations provide opportunities for parents and families to directly interact with the school on a variety of issues. Parent Organization Representative contact and school policy information is linked below.
Parent Organization Representative
Teria Powell
The enrollment on each school's profile reflects the number of students ever-enrolled in the school throughout the prior school year, which is validated by each school at the close of the school year. This data may be different from the point in time count taken in October called the annual enrollment audit.
Total Student Enrollment
---
63
Enrollment by Race/Ethnicity
---
| | | |
| --- | --- | --- |
| | American Indian/Alaskan | 2% |
| | Asian | 2% |
| | Black/African-American | 35% |
| | Hawaiian/Pacific Islander | 0% |
| | Hispanic/Latino, any race | 2% |
| | Two or more races | 2% |
| | White | 59% |
Enrollment by Grade Level
---
Enrollment by Student Groups
---
School Program Information
---
Extracurricular Activities
---
This list is provided by the school and represents activities highlighted by the school, not a comprehensive list of all activities
Monthly activities for the entire family
Arts
Dance
Before/After School Care
If before/after school care is offered the options for costs are: Free, Sliding Scale/Voucher, or Fee. Contact the school for more information.
School Uniforms Required
Yes
Metro Rail
Eastern Market
2020 Per-pupil expenditures
---
$24,132
Per-pupil expenditures represent the average amount of money spent on educating each student. In other words, this value represents the total amount of actual school expenditures divided by the number of students in the school. Information is provided to show the school, the LEA, and the DC average for per-pupil expenditures.
Click here for more per-pupil expenditure details
2020 Per-pupil expenditures by entity
---